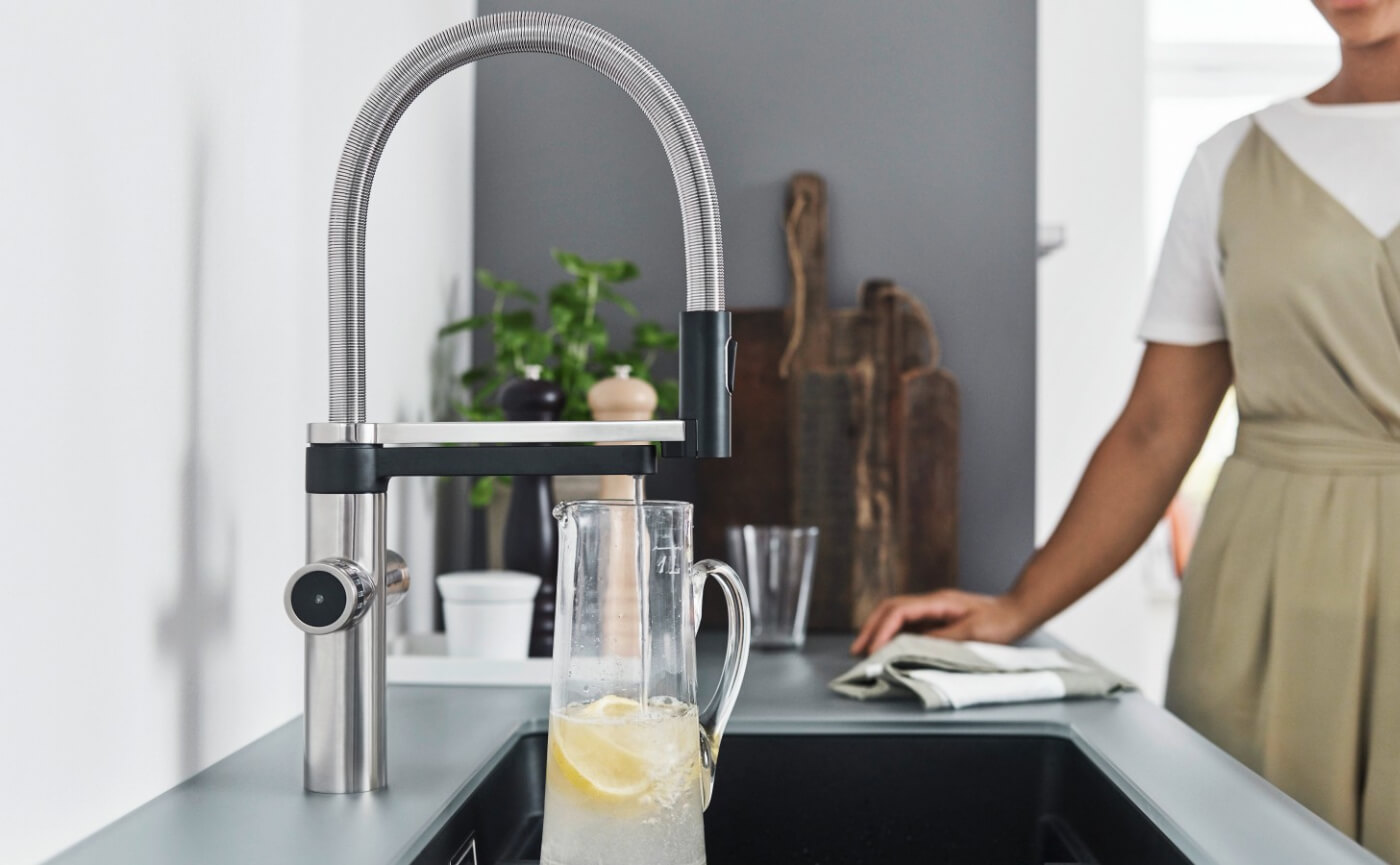 A game changer for semi-professional taps.
Smart, safe and stunning; with features like the measuring function, multi-stage filtration, touch-safe spout, intuitive safety controls and super-strong titanium boiler that have been engineered to be better.
The EVOL-S Pro semi-professional 4-in1 Boiling and 3-in-1 Filtered water taps make kitchen life easier every day. The brilliantly unique measuring function is a rotary dial and touch control where you set the volume of water you need, and it delivers precisely that amount.
The EVOL-S Pro Hot and Filter tap lets you choose between filtered boiling or filtered cold, while the EVOL-S Pro Filterdispenses your desired amount of perfectly filtered water.
EVOL-S PRO HOT & FILTER
The EVOL-S Pro Hot and Filter is a stunning semi-professional mixer tap, in stainless PVD steel finish. Delivering standard hot and cold water, via the mixer lever on the right, through a flexible spout featuring a magnetic mount and dual spray control nozzle.
The unique EVOL-S rotary control and measuring dial lets you select cold filtered or true-boiling filtered water and then set the dial to deliver precisely the amount of water you need. An intuitive touch-control initiates the flow, and the selected volume is delivered through a second, safe-to-touch insulated spout.
Both boiling filtered and cold filtered water are processed through our market leading BWT five-stage filter system, ensuring perfectly balanced, pure filtered water. The 100⁰C water is delivered instantly, in a controlled anti-spray stream, from a specification-busting Titanium 4-litre hot water tank, ensuring it is more hygienic, stronger, taste-free and less corrosive than many other materials available.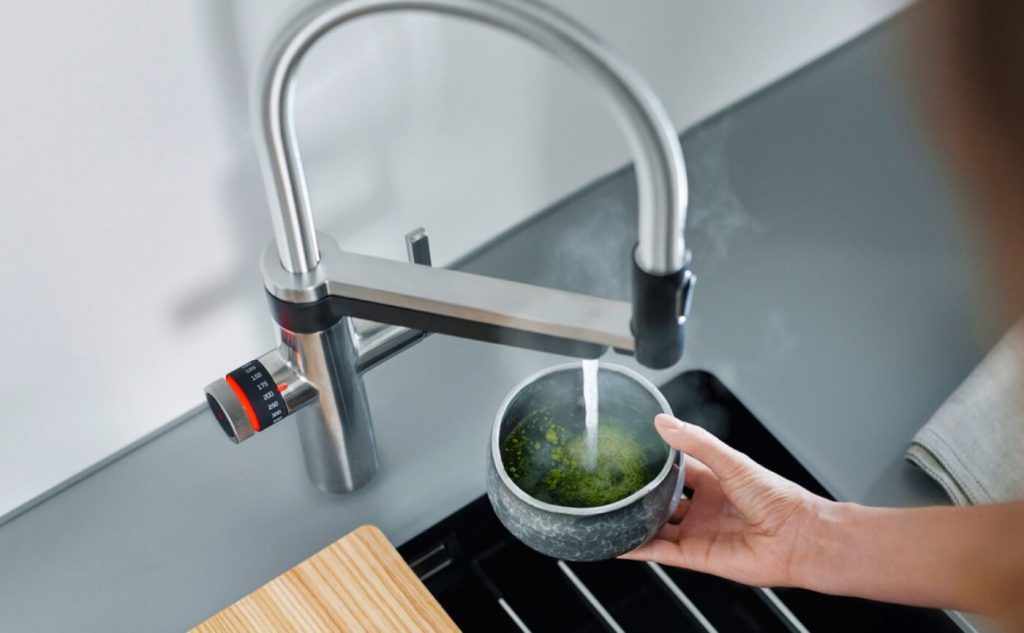 EVOL-S PRO FILTER
Filtered. Finest taste.
The new EVOL-S Pro Filter delivers standard hot and cold water from the mixing lever on the right, while the scaling wheel on the left measures the exact amount of cold, perfectly filtered water. There is nothing better or healthier for your body and your mood than a simple glass of filtered water, add some ice or a slice of lemon and you have the ideal thirst-quenching drink.
The great tasting and outstanding quality water delivered by the 3-in-1 EVOL-S Pro Filter is with the help of a high-quality BWT multi-stage filter. The water is filtered no less than five times as it travels through the filter cartridge on its way to the tap, purifying mains water by reducing limescale, removing metal content and other particles that can cause bad tastes and odours. Crucially though, the water is PH balanced to a precise level; just the right side of PH neutral to taste perfect each time.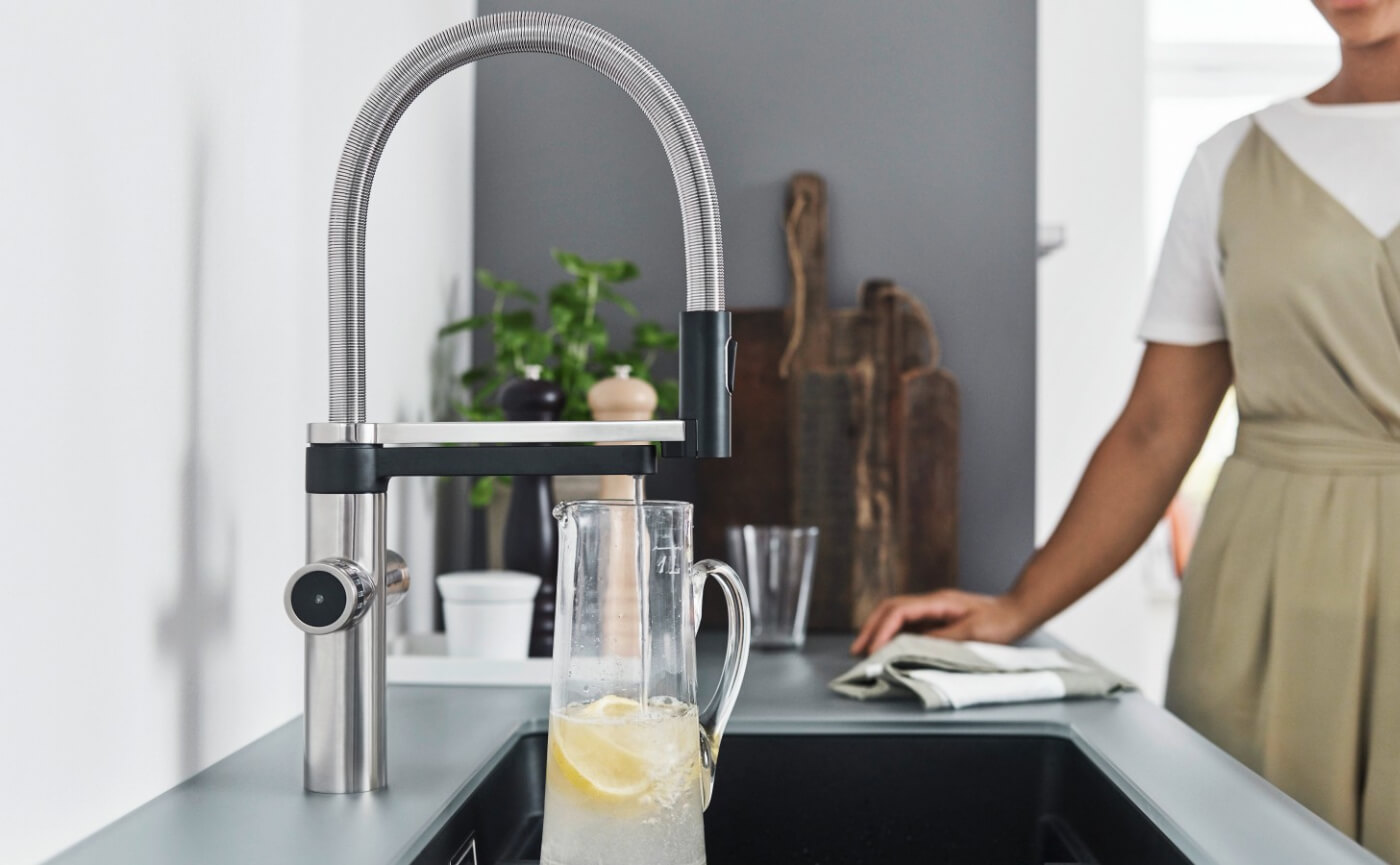 SAVE WATER WASTE, ENERGY AND THE PLANET TOO.
As a nation, we use over 7.7 billion plastic water bottles each year. That is more than three per-week each. Our filtered water systems use high-performance, five-stage filters that remove particulates, impurities, unwanted odours and perfectly balance the PH of mains water. There's no need to buy bottled water again.
The measuring feature helps to conserve both water and, in the Hot and Filter model, energy to heat the water too. Put 500ml of boiling water in a pan to boil some rice, put 200ml in a cup so it is ready for you favourite tea bag or 300ml into a cafetière without the wait for the over-filled kettle to boil. Add 500ml of freshly filtered water into your healthy morning shake or put a 750ml in your reusable bottle to take with you for the day. No more over-filling the kettle or re-boiling water until it tastes a bit odd, no more single-use plastics but also no compromising on water quality either. Whether you opt for the 3-in-1 Filter version or the 4-in-1 Hot and Filter model – the semi-professional design with the separate, yet integrated, spout and the unique measuring function make the EVOL-S Pro stand head and shoulders above the rest.
SELECT II
The SELECT II 60/2 Compact integrated storage and waste organisation system is ideal for use in combination with the EVOL-S Pro taps. A perfectly coordinated solution, making kitchen life easier everyday by adding practicality and ease of use to the cabinet beneath your sink.
Traditionally a bit of a dumping-ground, breathe new life into that no-mans-land under the sink. Use your integrated SELECT II system for waste separation and recycling or storing cleaning products, pet food and paraphernalia – or perhaps a combination of both? Thanks to the system lid, you have hidden storage / bin space and a raised level shelf for easy access to utensils, cloths or sink accessories. All designed to allow for installation of the water system at the back of the unit and to work perfectly with the plumbing for your BLANCO sink and tap.
This combination of sink, tap and integrated organisation is what we call the BLANCO UNIT – a seamless combination of items to create a hub around your sink – the busiest area of modern kitchens.