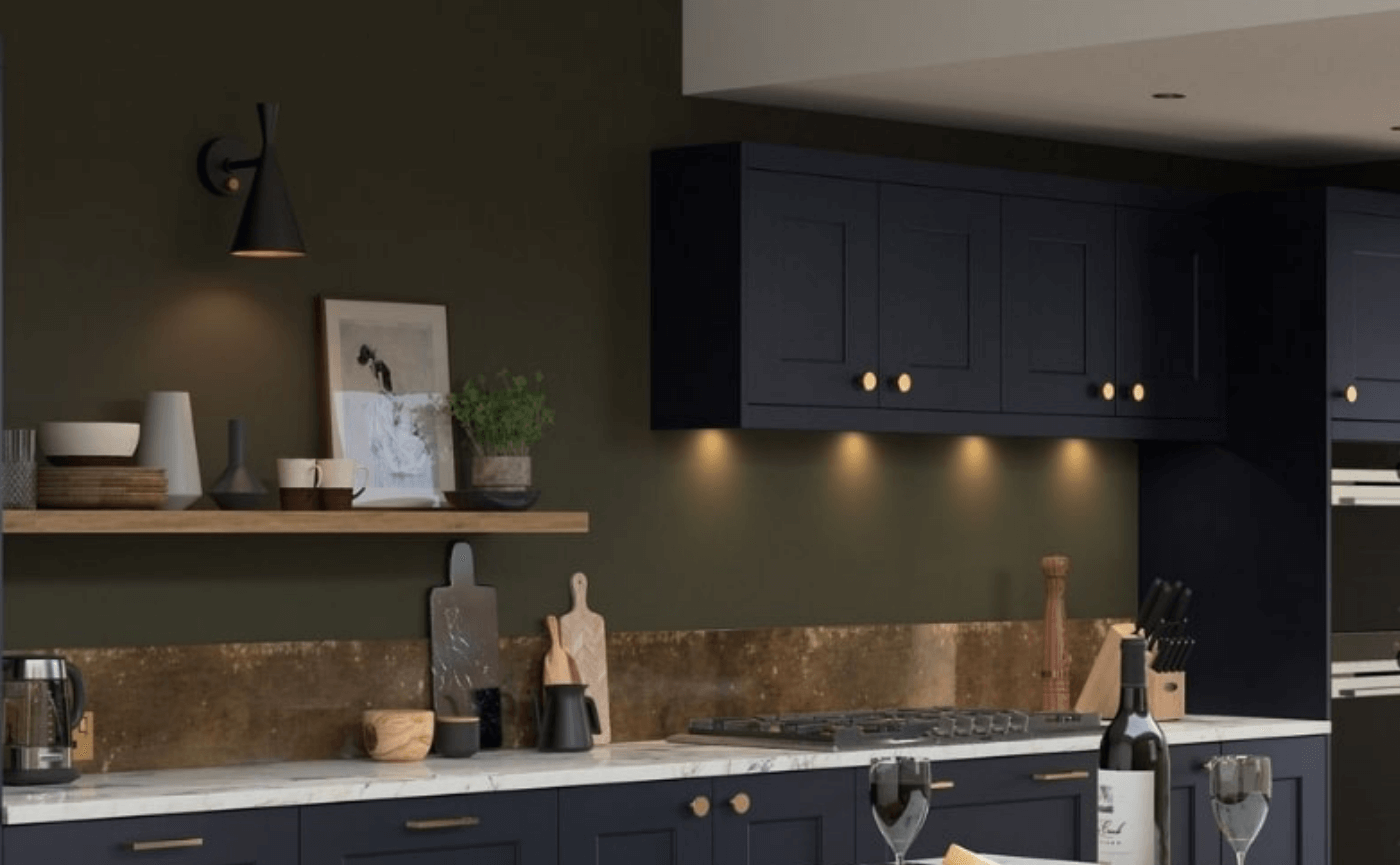 If you have a large kitchen also, the chances are that it could act as the main family room in the house too so it may also be a place to study, read or watch TV.  Lighting choice will also depend on whether you have high or low ceilings and if chosen correctly, can complement the overall design.
Identify Key Zones
A good starting point is to break down lighting requirements by areas of the kitchen space.  You'll need bright lighting for zones in which you're working, perhaps a more ambient choice of lighting in the areas where you'll be entertaining in and maybe even a more decorative choice of light to showcase key features of your kitchen.
To make it easier, we'll look at each of the key zones individually:
Lighting for Working
Sufficient lighting is a must in task based areas where hobs, sinks and even worktop surfaces are in use as this ensures safe cooking, washing and prepping.  To achieve good lighting, consider under cupboard spotlights above the hob & sink areas and fit them as close to the front edges of the cupboards as possible to ensure the light shines outwards and is not lost close to the walls and towards the back of the worktops.  Many different types and styles are available also to complement almost any type of kitchen design.
Fluorescent linear lighting is cost effective but is not dimmable.  Low voltage halogen bulbs for under cabinets are bright, reasonably priced and are available in a variety of styles and finishes and can also be recessed into the cupboard if you wish to make them completely invisible.  It's also recommended that these types of lights be placed around 500 – 600mm of each other to ensure a well-balanced spread of light and to avoid shadows on your walls and worktops.
LED under cabinet lights are a popular choice also as they're modern and energy efficient in terms of running costs.  They are slightly more expensive than halogen lights but have a longer running life.
Styles include strip lighting and spotlights and both can be dimmable too.   Task lighting above the cooker will usually be taken care of by the cooker hood itself as most feature integrated bulbs.  If not, one or two down lights will achieve exactly the same result if carefully placed.
Lighting for Dining
Lighting for dining areas needs to be flexible.  Whether you have a breakfast bar area or perhaps a more formal dining table, it's important to strike a balance between adequate lighting for eating and adequate lighting for entertaining afterwards.
Usually this space can feature main ceiling lighting which can provide a main focus on the table and this can be a high or low hanging ceiling light.  In addition to this, you should consider additional wall or freestanding lighting to create a more casual, welcoming space.
Lighting for Ambience
Lighting that creates ambience in a kitchen can often be overlooked but this if considered carefully, can give a kitchen the most stunning effect and can transform a kitchen space better than anything else.  Lights that are controlled separately are a perfect option if you wish to create an atmosphere in certain parts of your kitchen in areas away from the main cooking / prepping zone.  Softer lighting can also be achieved through wall lights and dimmed lights can also allow for even more flexibility and can cleverly create the feeling of a softer space.
Other examples of ambient lighting includes strip lights on top of kitchen cupboards which project light to the ceiling, particularly effective if you have high ceilings or lighting in the plinth below the floor cupboards to create a gentle warm glow.
Think creatively to find ways to incorporate light fittings which is not visible to the eye.  This will help to ensure you achieve subtle background illumination throughout the space and this will create a beautifully welcoming atmosphere.
Accent Lighting
So you're incorporating stunning elements in your kitchen design and you want to make them stand out….accent lighting will do just that by drawing attention to the main features.
Recessed downlights placed under the rim of Kitchen Island worktops helps create this as a centrepiece.  Lights placed within glazed framed doors can subtly illuminate display cabinets.  Integrated lighting for in the plinth below the run of main cupboards will create a smooth flow across the flooring.  These are just some examples of the ways in which accent lighting can work for you.  Other factors to take into consideration is the amount of natural light you will have flowing into your kitchen space and at different times of the day.
Whatever your approach to lighting, by subtly incorporating a combination of all of the above, you can create a stunning, yet functional way to light your kitchen.  Set a budget for your kitchen lighting and use your imagination to create the perfect design for your needs.